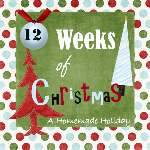 Hop on over to
The Nesting Place
to see what I will be making later this week for
Keelie's Twelve Weeks of Christmas Tour.
These are just about the cutest things I have ever seen....I'm gonna enlist Savannah's (7 yo) help.
I can think of more than one person on my Christmas list that would like one of these!
Wanna make one? Wanna come to my house and we can do it together?...let's schedule a craft day! Interested...leave me a comment (and this is for real...seriously!)....for my out of town readers...we could schedule a virtual craft day and post our pictures together....I don't want to leave you out!