I can't say enough about this Bible Study for Kids. If you have an 8-12 year old and are serious about teaching them the Word of God, this is a great great great Bible study series. I have purchased 4 of them to do this year in school and we are LOVING them. We eased into school this year and the one thing the kids wanted to do everyday was their Bible lesson. This first book that we are doing is focused on teaching children how the Bible matches up ---Old and New Testament ---when it comes to creation and the validity of scriptures. It's inductive Bible study, where kids highlight different words that go together in context so that they can see how God's Word all fits together. The kids are in the Word digging out treasures for themselves. I'm just crazy about it! Kay Arthur also explains where certain words come from. Today in Bible Savannah learned the Pentateuch is the correct word for the first 5 books of the Bible and then in math learned about Pentagons (shapes with 5 sides) ....she knew exactly what pentagon meant because of what she had learned from dissecting the words during Bible class. I kinda like that ...a lot. Tucker enjoys the puzzles and word games that accompany each lesson. He also gets to draw and title a pictures that goes with each part of the Genesis story.
If you're looking for something a little more than storytime Bible time with your kids, then this might be just the thing. I sit with them and talk with them about the lessons, but for older kids they could certainly do these lessons independently. You don't have to be a homeschooler to want your kids to learn to study the Bible....so check this out...it might be just what you're looking for!
Here's the order information....should you decide to take a closer look.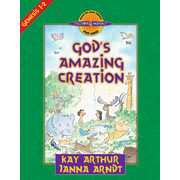 Discover 4 Yourself, Children's Bible Study Series: God's Amazing Creation (Genesis Chapters 1 and 2)
By Kay Arthur & Janna Arndt / Harvest House Publishers
This book takes kids through the first part of Genesis, focusing on the theme of creation in chapters one and two. Young scholars will put on their archaeologist hats to help the book's main characters--inductive detectives Max and Molly--dig up the truth about how the world began. Kids will discover who the world's creator is, how the heavens and earth were formed, what exactly happened in the beginning, and how the earth, the sea, people, and animals came into existence. Great fun and wonderful Bible truths for kids with an insatiable appetite for the "whys" of life!