Feel free to share your Multitude of Blessings by leaving a comment or linking up at
A HOLY EXPERIENCE.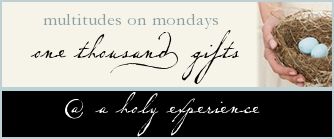 22. Grandparents to help us with our kids at a moments or months notice. Thankful for all the help they offered as we prepared and traveled to Peru.
23. Simplicity of summer
24. 15 ladies who've studied with me for 13 weeks to be more grounded in God's word.
25. A man who snagged our Pizza Hut bill the other night while we were out.
26. A good sale on kid's clothes
27. Tree that fell on our house but caused no damage
28. The pleasure of reading a good book
29. The testimony of a faithful man who met Jesus this week, but lived Jesus' message for many years
30. Fresh tomatoes from a church member
31. That His mercies are new each morning
What about you? Do you see God's blessings in the everyday?