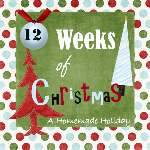 I am linking up again with the 12 weeks of Christmas meme with
Red Writing
Here's one of my favorite things to make for Christmas. They make great gifts...especially for those hard to buy for guys in your life! Use canning jars decorated with holiday ribbon or buttons to make the gift extra special.
Caramelized Toasted Pecans:
1 1⁄2 cups pecan halves
1/3 cup firmly packed brown sugar
3 tablespoons butter
2 tablespoons pure maple syrup
Preheat oven to 350 degrees. Spread pecans on cookie sheet or other baking pan and toast 5 minutes, stirring often. Combine brown sugar, butter, and maple syrup in medium saucepan over medium heat. Cook about 2 minutes, stirring often or until sugar dissolves. Add toasted nuts and stir until coated. Place on buttered foil and put back in oven for 1 to 2 minutes, or until sugar starts to bubble. Cool.